There have been a couple of products that have grabbed our attention recently with the clever use of web technology. 'Crystal Knows' and 'How Old', both of which are in their infancy but will no doubt develop into mighty augmented web tools.
I was initially skeptical of Crystal Knows which claims you can type in a name and it will tell you that person's communication preferences when; speaking to them, emailing them, working with them and selling to them. It also tells you personality traits of the person with what comes naturally to them or not but all with an "Accuracy confidence" percentage.
Take my work colleague Elliott for example. His two liner statement is:
"Elliott is very diligent, steady, calm, and works hard to accomplish one goal at a time, but might seem overly risk-averse at times." (Accuracy confidence: 70%)
Image: Crystal Knows' prediction for Elliott's preferred communication style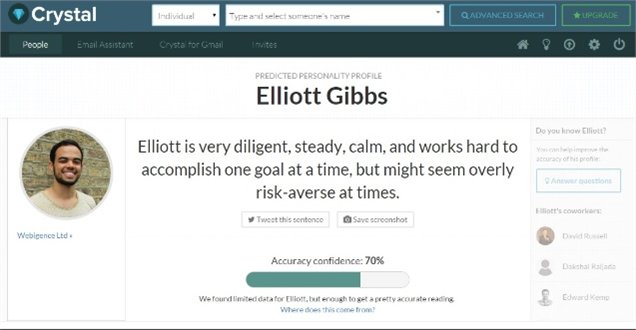 We all know that different people have different communication styles but working it out for each individual can be time consuming and tricky within the limits of email and phone conversations before you even get to arrange an initial face-to-face meeting. So this is an interesting tool to use for communications for new business leads or new clients in order to communicate in the right way for them to be as receptive as possible to you and your organisation. 'Crystal Knows' also tells you how to re-write your email using the best words, phrases and tone for the recipient.
The other site that we had a bit of fun with in the office was 'How Old'. This site guesses your age based on a photo you upload.
Initially photos of some of the team were relatively accurate for them but then I tried and got a wildly incorrect variations of age suggestions (of which I will not specify). Regardless of the accuracy, the technology is actually very clever.
Image: How Old's prediction on the 2015 UK Political Candidates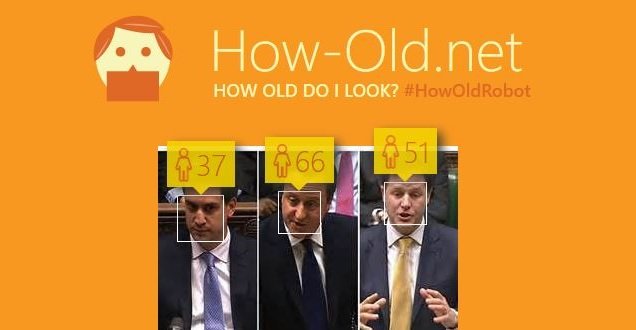 The site was created initially because Corom Thompson and Santosh Balasubramanian, Engineers in Information Management and Machine Learning at Microsoft wanted to showcase how developers can easily and quickly build intelligent applications using Azure services (you can read more about it from the 'How Old' website).
Read the full article in more detail about these technologies on our blog.
Tweet us @Webigence or comment on LinkedIn  about your thoughts on these and any other interesting web technologies you've found. Read more at: http://www.webigence.com/blog/
Post a Comment